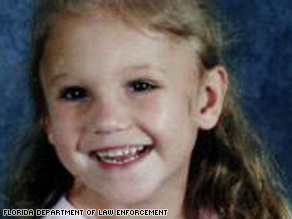 An Amber Alert was issued shortly after Haleigh Cummings vanished from her bed in her Putnam County, Florida, home, police said.
Her father said he thinks that a man snatched Haleigh from her bed.
"All I want is my child ... please ... all I want is my child," Ronald Cummings told reporters, his voice breaking.
Cummings' girlfriend, Misty Croslin, was the first to discover that the child was missing and called 911. Croslin told the dispatcher that she found a brick on the floor, according to CNN affiliate WJXT-TV.
The station's Web site printed text of the 911 call, which included this exchange:
Dispatch: OK. All right, you said your back door was wide open?
Caller: Yes, with a brick. Like, there was a brick on the floor. Like, when I went to sleep the door was not like that.
Haleigh had been put to bed at 8 p.m., the girl's grandparents told reporters Wednesday. Croslin went to the bathroom two hours later and returned to find the child missing, grandmother Marie Griffis said.
"She's out there somewhere, I can feel her. I can feel her presence," said Griffis. "She's screaming."
The Amber Alert, a national broadcast warning that a child has possibly been abducted, said the child was last seen wearing a pink shirt and underwear.
The double-wide trailer where Haleigh lived with her father, Croslin and a 2-year-old brother did not have signs of a forced entry, Lt. Johnny Greenwood of the Putnam County Sheriff's Office told the Orlando Sentinel.
A back door was slightly open, Capt. Steve Rose said, according to the newspaper.
Haleigh's mother was at her home in Georgia, he added.
Investigators are looking into various angles on the case, including finding out the location of 44 registered sexual offenders who live within a five-mile radius of the Cummings home, Sheriff Jeff Hardy told the Palatka Daily News.
Anyone with any information is encouraged to call the Putnam County Sheriff's Office at 386-329-0800 or the Florida Department of Law Enforcement's Missing Endangered Persons Information Clearinghouse at 888-FL-MISSING.